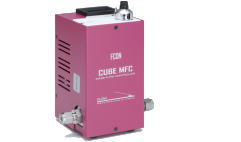 Features
● Mass flow controller 1000 series and control power supply are all-in-one compact flow control unit.
● It can be used by connecting the gas fitting and power outlet.
● The suppression of Flow surge (overshoot) at the start (Requires more than 30 seconds of interval).
● Input & Output Signal : Analog (0~5VDC).
● Equipped with monitor terminal for setting / output voltage on the back.
● This product is ideal for use on the desktop, space saving.
● If you mount the main body and set the operation part in the panel cut part, it can be incorporated in various kinds of equipment.
Product Catalog
Specification
Conpact Flow Control Unit
CUBE MFC 1005
Flow range (N2equivalent)
10,20,30,50,100,200,300,500SCCM
1,2,3,5SLM
Gases
Various Gases (Please consult about corrosive gas)
Valve type
NO : Normally Open
Flow rate control range
5~100% F.S.
Accuracy
±2% F.S (Accuracy guaranteed between 15-35℃)
Setting signal
0.25~5VDC
Output signal
0~5VDC / Display : Scaling display (Setting signals and output signals can be displayed by switching the switches.)
Repeatability
±0.2% F.S
Response
≦6sec
Operating differential pressure
50~300KPa
Pressure resistance
1MPa(G)
Operating temperature
5-50℃, ≦85%RH
Leak integrity
1×10-7Pa・m3/sec He
Drive power source
85-260VAC : ≦500mA
Communication
Analog : 0~5VDC
Wetted surface material
SUS316L, PTFE, Fluoro-Rubber
Seal material
Fluoro-Rubber
Actuator system
Thermal
Surface treatment
Machined finish
Standard fitting
1/4in.SWL (equivalent), One-touch fittings,  ※ For other fitting, please contact us.
Accessory
Power cord, User's manual, Written guarantee
External Dimensions
Ordering
สินค้าใกล้เคียง